While we are all still basking in the glory of a hockey season that ended with back to back championships it is time for me to say my thank yous to all involved. I sure consider myself lucky to have started this blog two seasons ago and having both of them end with championships.
Who would have imagined a blog started for the Heritage Ranch Allen Americans fan club now reaches people all over the US and Canada as well as the hockey hotbeds in Europe on a daily basis. It proves Allen Americans fans are all over the world.
I want to start out by thanking all of the fans that frequent this blog. It has been my pleasure to meet many of you and your words of encouragement in person, comments at the end of each blog post, on Twitter, Facebook and email have been very satisfying and inspiring.
Thanks to the many fans, bloggers, and media from all over the league that have promoted the blog as fair and balanced and also have shared information with me about their teams. One of the unexpected benefits of writing the blog has been getting to know all of the passionate fans from the other CHL teams.
Jim Wiley, Director of Hockey Operations and Bob Hoffman, Director of Operations for the CHL have spent more time with me than I deserved to help educate me about policies, rules, discipline, rosters, and officials. They are always willing to explain the rationale behind their decisions and while you don't always agree you can appreciate their willingness to share how a decision was made. They both have difficult jobs to do but have always been open and honest with me and very responsive.
Thank you to the players who have never said no to a single request I have made of them for a chat, an interview or a question. I have gotten to know most of these young men both professionally and personally and they have represented the Americans in an outstanding manner.
One of my goals when I started the blog was to share the personal stories of the players. The wives/girlfriends, parents, brothers, sisters, aunts, uncles and friends I have met have been great in sharing family stories which I have then been able to share on the blog. Thanks to all of you.
Thanks to Steve Martinson, Richard Matvichuk, Kacee Coberly, & Osama Kassab for always being willing to talk to me and help educate me. A special thanks to coaches Martinson and Matvichuk for allowing me to stop by their office after every game and every practice to ask questions and talk about the team. It is their openness and trust that has allowed the blog to have information you can't find anywhere else.
A special thank you to Tommy Daniels, Director of Communication & Broadcasting who has been a tremendous help to me all season. He is the one that encouraged me to start the blog, made me feel like part of the media team, answered many questions, let me stop by his office on almost a daily basis to get current information, publicized the blog to attract new readership, and invited me to be part of the between periods conversation on his radio broadcast to talk hockey and promote the blog.
Thanks to Erik Adams and Tom Manning for letting me bother them with questions when they are busy with other duties. Erik has been the liaison with the fan club at Hertiage Ranch and has devoted many hours talking to the fan club and helping me arrange for guests at our fan club meetings.
Unlike most writers, bloggers, and other media types that cover the Americans I have a dual role as in addition to being a blogger I also coordinate the activities of the fan club at Heritage Ranch. In this capacity I spend a lot of time in the front office of the Americans arranging for season tickets, suites, individual game tickets, seats for soldiers tickets, and other promotions. I want to thank the entire sales and marketing staff and especially Mike Martin and Robert Fatta who have gone above and beyond the call of duty to help the residents of Heritage Ranch.
Finally thanks to Matt Canavan, club President, who is always willing to answer all of my questions about how the league operates, the business end of minor pro hockey and any other questions I may have.
So a second magical season has come to an end. I have been a season ticket holder since the beginning so I have been following the team since its inception but these last two seasons have been different. I was able to see the team from a different perspective and the access I was given by the entire organization helped me bring the story to the blog.
Now everything is over except a couple more celebrations (Splitsville tonight and Game On Sports tomorrow), exit physicals and interviews. Then everyone will scatter to the wind and all of the uncertainty about next year commences. Based on history more than half of the players will not return. I plan on writing two more blogs post before the daily posts turn into periodic posts for the summer. Tomorrow will be the "Boys of Summer" which is about what all of the players had to say about their summer plans. You will find out everything from who is going to Cuba on vacation, who is building a cottage on the ocean, who is taking courses to become a fireman, and who throws around cases of beer for a summer job. Then on Wednesday it will be "The Silly Season" with all of the rumors about the CHL from expansion to contraction, changes with the Allen Americans and other teams around the league. This will be a good one for sure.
Finally, the guys that run the Team Store asked me to share the following information:
In case you didn't get one of the two championship shirts after the game on Saturday we will have them at the Team Store and celebration events as well as online. Also preorder forms will be out and at the Team Store if you want the special edition "Come and Take It, 2013-2014 Back to Back" jersey which can be customized with any name and number you choose. We are also preordering pucks, ministick and hats. The jersey will be on the Team Store website soon or you can stop by the Team Store for additional details.
Thanks again, Barry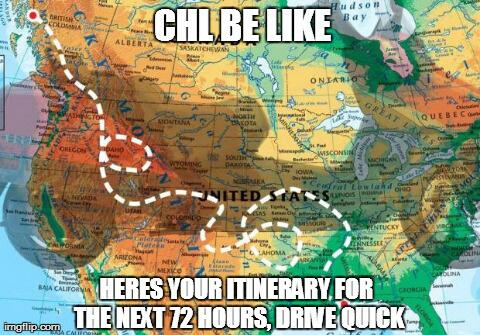 Courtesy CHL Memes
DID YOU KNOW: In the last twelve years the CHL championship final has been won in five games six times. It has gone to seven games three times, six games twice, and only once (2008 Arizona defeated Colorado) has the finals ended in a four game sweep.