Smile Boys!! - photo courtesy of Richard Henry
- It is game day in Allen and needless to say a very important one in this championship series. The Americans have home ice advantage and want to retain it, they are 3-0 on Wednesday games in the playoffs, they want to seize the series lead for the first time and put the pressure on the Cutthroats. Had the chance to attend practice yesterday and watch both teams go through the paces and you could sense confidence in both teams. Should be a great game tonight.
- Allen took their official team picture before practice and wore their white jerseys for the first time foregoing the traditional red jersey. My understanding is the Americans will be wearing the white jersey for all remaining games in this series both home and away. It was great to see guys like Phil Fox, Jarret Lukin and Trevor Ludwig back in uniform even if it was just for the team picture.
- Could not get any official word on the status of AJ Gale for the rest of the series but have heard from several sources that he will not return. The last official word was he has a lower body injury and may return later in the series. Not positive about this but from what I can determine the CHL does not have a prohibition about misleading statements about injuries. So there is nothing to prevent a team from saying a player has a lower body injury if he has an upper body injury like a concussion.
- Denver and Allen are so close in numerous statistical categories it is understandable that all of the games will be close and additional overtime games are almost certain. After all the first two games had identical scores of 5-4 with each team winning once. Check out a few of the comparisons:
Playoff Record: Denver (9-4), Allen (9-5)
Goals Scored: Allen (51), Denver (48)
Goals Per Game: Denver (3.69), Allen (3.64)
Save Percentage: Denver (.928), Allen (.926)
Power Play: Allen (#2), Denver (#3)
Penalty Kill: Denver (#1), Allen (#3)
- With all of the similarities one difference to be noted is playoff home vs road record. Allen is only 4-4 on the road but 5-1 at home. Denver has a home record of 5-3 but is better on the road going 4-1.
- The CHL changed the date of game seven yesterday from Friday, May 16 to Saturday May 17. Is it just me or do actions like changing the date of game seven of the championship finals in the middle of the series with no explanation reflect poorly on the CHL who desperately wants to be seen as an equal to the ECHL. I know staff, players, and fans that are inconvenienced by this decision at this late date.
- There is going to be a car show prior to the game on Saturday in the parking lot outside the Allen Event Center. If you like classic cars stop by early to check it out. And if you have a classic car, truck or motorcycle give Joe Yannessa from Solutions Automotive or Erik Adams from the Americans a call as you will get free tickets for the game if you participate. Details below: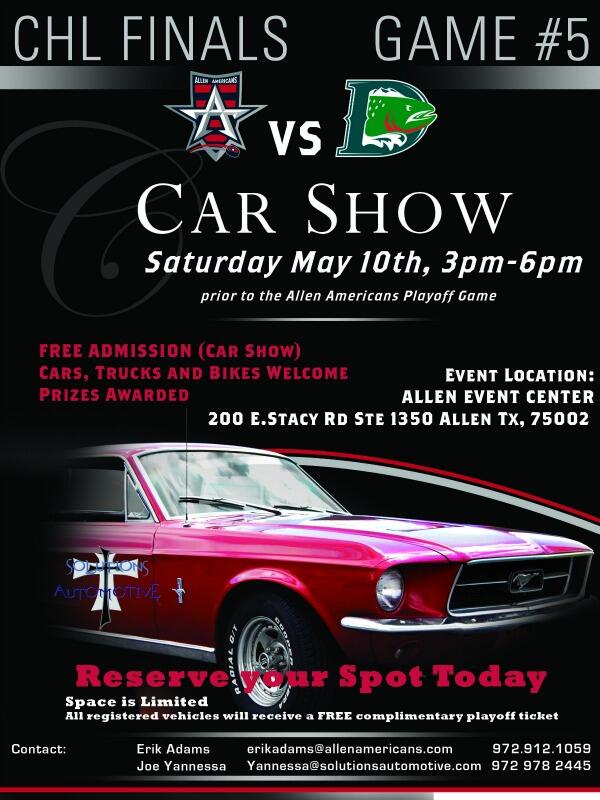 - Here is an article about Anthony Maiani that was posted by the CHL yesterday:
For four years, Allen forward
Anthony Maiani
enjoyed great success scoring goals in the city of Denver while playing for the University of Denver from 2007-2011. But through two games of the CHL Finals, maybe no bigger goal has come for the Shelby Township, Michigan native than the one he scored with 1:14 remaining in regulation of Game 2, a game that Allen would win in double overtime by a 5-4 score. The Americans had just concluded a power play and had earlier pulled goaltender Bryan Pitton giving them a chance to battle back from a 4-3 deficit and force overtime. The Americans were able to get the puck in the zone and scramble a bit on the boards by the left wing when finally defenseman Jonathan Zion settled the puck and found Maiani alone at the right circle for a one-timer and the game-tying strike. Maiani scored in both Game's 1 and 2 in the Finals in Denver showing his affection for the Mile High City and he is currently tied for the scoring lead for the Americans with 17 points (5-12=17) joining Jamie Schaafsma (8-9=17). With the Pioneers, the now 25-year-old averaged 32 points per season with the high mark of 41 points (11-30=41) coming during his sophomore season. Maiani was the top player on a team that featured current NHL stars Tyler Bozak (Toronto) and Joe Colborne (Calgary). In 13 games during last season's title run for the Americans, Maiani played down in the line-up scoring just seven points (2-5=7) in 13 games but already this post-season he is making a statement with big goals and nightly contributions to Allen's attempt to become just the third CHL team to repeat as champs.
Anthony Maiani - The Denver University Days
DID YOU KNOW: As a freshman at Denver University in 2008 Anthony Maiani scored a spectacular game winning goal in the semi final game of the conference championship against North Dakota. You have to take a look at this goal on youtube, "Anthony Maiani's Magnificent Goal" at:
https://www.youtube.com/watch?v=eL1Y3H8IUC0