- You know the hockey season is quickly drawing to a close when the official team picture is scheduled. Heard from Tommy Daniels that event will take place today before practice. Sure hope they are in the red jerseys for the picture.
- Here is the CHL "Shots From The Point" which was published yesterday and recaps the final series thus far:
2014 Ray Miron Presidents' Cup Finals Schedule
Denver Cutthroats (2) vs. Allen Americans (3)
Series tied 1-1
Game 1 – Fri., May 2 – Allen 4 at Denver 5
Game 2 – Sat., May 3 – Allen 5 at Denver 4 (OT)
Game 3 – Wed., May 7 – Denver at Allen, 7:05
Game 4 – Fri., May 9 – Denver at Allen, 7:05
Game 5 – Sat., May 10 – Denver at Allen, 7:05
*Game 6 – Wed., May 14 – Allen at Denver, 7:00
*Game 7 – Fri., May 16 – Allen at Denver, 7:00
Series Notes:
-Game 2's double overtime win for Allen marks the third 2OT game in CHL Finals history and the second for Allen who lost in the longest CHL Finals game in history back in game 6 of the 2010 Finals versus Rapid City.
-Jamie Schaafsma has four goals and two assists along with a +4 plus/minus rating in the two games in the Finals so far and he scored the double OT winner in Game 2.
-A.J. Gale left Game 2 in the first few minutes after being checked hard into the boards. Gale had seven goals in the previous two games.
-Troy Schwab is tied with Gale for the league lead in post-season scoring with 22 points. Schwab has eight goals and 14 assists and had a 13-game point streak (league record is 15 games).
-The Americans have played in three straight one-goal games dating back to Game 7 of the previous round vs. Quad City. Allen is 2-3 in one-goal games in the playoffs.
-The loss in Game 2 by Denver marked the first time that the Cutthroats had lost a game when leading after two periods (6-1).
-Jonathan Lessard has goals in four straight games, tied for the longest in this year's post-season.
-Alex Lavoie has two goals and five assists over his current six-game point streak after going his first six post-season games without recording a point.
-During the playoffs, Allen is now 7-2 when scoring first and Denver is 8-2.
-The Cutthroats have played in a league-high four overtime games during this year's post-season (3-1).
- Mentioned yesterday the special teams battle in the first two games of the finals has been won by Denver. Allen is 0-10 on the power play and Denver is 4-10. However even strength play has been won by Allen as reflected by plus/minus. For the entire playoffs Denver is +16 and Allen is +59 but in the first two games of the finals Allen is +21 while Denver is -21. So the path to success seems to be Allen improving on special teams and Denver improving even strength.
- For those of you that track message boards and social media you have seen "silly season" is in full swing around the CHL. When teams are no longer in the playoffs the speculation starts about what will happen in the off season. Who is folding, expansion plans, ownership changes, league changes, who needs to be fired and hired are just a few of the topics discussed by fans that may or may not have any reliable information. I am constantly asked about these rumors and my answer has been, no silly season discussion until after the playoffs are over. Stay Tuned.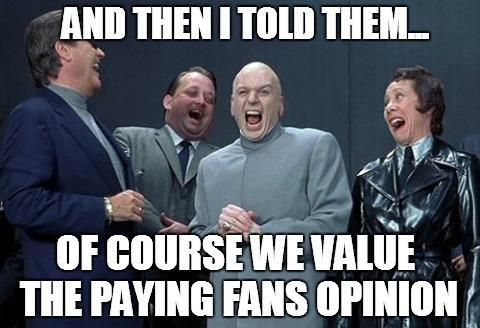 Courtesy CHL Memes
DID YOU KNOW: The Allen Americans play better on certain days of the week if you look at the playoffs this year. Allen is 3-0 on Wednesday games but 0-4 on Friday games. On Saturday they are 1-1 and Saturday is overtime night as both Saturday games went to overtime.