The Allen Americans capped off an Anthony Maiani extra attacker tying goal last night with just over a minute to play in the game with a spectacular individual effort by Jamie Schaafsma as he scored the game winning goal at 1:51 of the second overtime.
Allen jumped off to a 2-0 lead in the first period on goals by Schaafsma and Lessard only to have Denver come roaring back, taking the lead 3-2 when they scored two goals in 27 seconds early in the second period. It could have been worse as Denver had a goal disallowed when the referee ruled the puck had been kicked into the net. The teams traded goals in the third period to make the score 4-3 Denver before the Maiani and Schaafsma heroics at the end of the game and in overtime.
It was obviously a big win for Allen to get a split in Denver as they head back to Allen for the next three games. Maybe experience served them well in this game as the Americans found a way to win despite being outshot 51-41 and losing the special teams battle as they did not score on the power play and allowed Denver two power play goals.
So the end result was a 5-4 double overtime victory before a crowd of 3843 at the Denver Coliseum to tie the series at one game a piece. The bus ride home, which commenced right after the game, was certainly more enjoyable after the dramatic win. The team will arrive back in Allen early this afternoon (Sunday). The series continues in Allen as the teams will play Wednesday, Friday and Saturday.
Two key players were injured during the game and did not return after their injuries. Denver's AJ Gale was taken to the hospital with what was described by Coach Armstrong as a lower body injury after what both teams described as a clean check. Allen lost Bruce Graham to an injury which knocked him out of the game. Hope both of these guys are okay and will be able to play when the series continues on Wednesday.
COACH STEVE MARTINSON POST GAME COMMENTS:
- Unlike game one, we got off to a great start to take a 2-0 lead but turnovers and a bad penalty resulted in a momentum shift for Denver. After they took the lead I thought we settled things down.
- This game could have gone either way, it was our turn tonight as percentages were in our favor.
- I was very concerned how we would play tonight, especially when the game went to overtime, as we had four games in five nights with 30 hours of travel. Even with all of that our pace in overtime was incredible.
- Jamie made a huge play on the game winning goal. Jamie is one of those guys that can create his own offense. Hopefully we can get a replay of his goal on the big screen on Wednesday night for everyone to see.
- Our defense made some great passes tonight as they were in on all five goals.
- Now we head back to Allen with home ice advantage and an opportunity to get some much needed rest.
COACH DEREK ARMSTRONG POST GAME COMMENTS:
- It was a good hockey game, obviously when you play against the champs you have to expect some push back. The game could have gone either way but I thought we played well tonight and competed hard. A couple of miscommunications kind of cost us and that is part of growing and learning as an organization. They got their split and now we have to go to Allen and win.
- It is tough when the referee puts the whistle away and then all of a sudden calls two penalties at the end. That is why this league has been so tough the last couple of years with inconsistency. I know the referees are young guys but when they start having impacts on games it is difficult. It isn't the reason we lost the game but it does change momentum quite a bit. You never know what they are going to call. Yes, they were penalties but there could have been ten the other way as well. This league struggles at times with consistency.
- It was a nice goal they scored in overtime. It goes bar and in and that is every kids kind of dream. It is part of the adventure, you are playing the champs and they have a lot of push back and experience. They have something like 14 guys who have played in the finals and we have one guy that has played in the finals.
- To win in Allen we need to continue to compete they way we are competing. Continue to grow and work hard.
OTHER COMMENTS:
- Denver has certainly flipped the script on Allen when it comes to special teams play. After two games Allen is yet to score a power play goal and is now 0-10. Denver is scoring power play goals at a 40% clip (4-10). Allen will have to improve on both the power play and penalty kill to be successful in this series.
- If you look at the box score it is nothing special but watching the game on CHL TV it seemed as if Daniel Tetrault was a man possessed last night. He was all over the ice, throwing his body around and I know he is dinged up a little bit. A great leader by example. The oldest guy on the team (he will be 35 in September) and he is one of only two guys (Asuchak the other) that have played in every game this year. You can see why everyone wants to win a championship for him. And by the way, Daniel leads the CHL in plus/minus for the playoffs with a +14.
- Talk about stepping up in big games how about Jamie Schaafsma with identical two goals and one assist in both games in Denver and a highlight reel game winner in the second overtime last night. And it is not the first time Jamie has been the hero in overtime in championship finals. Almost four years ago to the day Jamie scored an overtime goal for the Flint Generals in game three of the Turner Cup finals in the International Hockey League.
- Tommy Daniels mentioned during the broadcast last night that according to CHL Director of Operations, Bob Hoffman, the decision to not use two referees in the finals was made at the owners meeting last summer. Unless I completely missed the new release on this decision it was a well kept secret right up until the championship finals began. My recollection is after last season it was said they thought the experiment was a success and they would do it again this year. I did go back and look at the CHL press release (July 23, 2013) which outlined changes made at the Board of Governors meeting and there was no mention of going back to one referee for the finals. I don't think the teams were aware of this decision either.
- Jamie Schaafsma and Anthony Maiani are tied for the team lead in playoff scoring with 17 points. Jamie leads the team in goals (8) and Anthony leads is assists (12).
- Garett Bembridge's comment on the check that put AJ Gale out of the game. "I didn't really see anything," Bembridge said. "I just had my head down going to the net. I guess it was a clean hit, he was just in a bad, vulnerable position and you know that's the way hockey goes."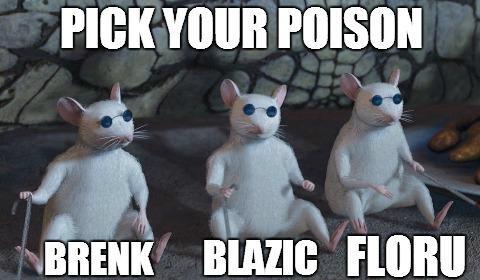 Courtesy CHL Memes
DID YOU KNOW: Some professional hockey players never make it to the championship finals. Jamie Schaafsma has been to the championship finals for six straight years.
2009 - HC Bolzano (Itlay)
2010 - Flint Generals (IHL)
2011 - Gherdeina (Italy)
2012 - Gherdeina (Italy)
2013 - Allen Americans (CHL)
2014 - Allen Americans (CHL)