Allen Americans Celebrate Big Game Three Win - Photo by SceneByKimberly.com
In a game that saw several trends continue the Allen Americans defeated the Denver Cutthroats by a score of 3-1 before an enthusiastic midweek crowd of 4553 at the Allen Event Center last night. The game was much more like what was predicted between these two teams who are led my great goaltenders. The first two games were high scoring (both 5-4) wide open games while game three was more tight checking and only three goals were scored until Kale Kerbashian put home an empty net goal at 18:24 of the third period. The teams traded goals early in the first period and that was the end of the scoring until a game changing, high speed, wrap around goal by Greger Hanson at the 14:18 mark of the third period put the Americans in the lead for good. It was Hanson's seventh goal of the playoffs to go along with eight assists. Greger took a nasty slash from Cutthroat defensman Mikeal Tam with 24 seconds left in the game which most observers felt should have been a major penalty for intent to injure. Hanson will have x-rays this morning to see if anything is broken.
As for those trends that continued last night they include both good and bad. Allen scored first in the game on a blistering shot by Daniel Tetrault which continued the streak of the team that has scored first has won every game in the series thus far. Allen won on Wednesday which extends their unbeaten streak in the playoffs to 4-0 in games played on Wednesday. Another trend that continued last night was out shooting Denver in the third period which has happened in all three games. The third period shots last night were 14-7 in favor of Allen. The Americans continued to win the even strength battle as they were +10 while Denver was -11. For the series Allen is at +32 and Denver is at -25. The one trend that continued that is not good was the inability to score on the power play. Allen was 0-6 on the night and is now 0-16 in the series.
STEVE MARTINSON/RICHARD MATVICHUK POST GAME COMMENTS:
- I really liked all of the chances we had tonight both even strength and on the power play. We didn't get a lot of goals but we had the better chances. I also liked that the third period was our best period and we still had our legs.
- Denver has a good penalty kill and a good goalie so it makes it tough on the power play. I think our decisions on the power play were better tonight but we need to do a better job of battling for pucks and getting to loose pucks.
- The lineup for Friday should remain the same unless Hanson is unable to play because of the bad slash he took at the end of the game. He will get x-rays in the morning.
- We will have a light practice tomorrow and hopefully come out with even more energy in game four. Winning game three was a big step as it was an important game.
OTHER COMMENTS:
- Here is how Cutthroats Radio, which is a twitter account run by Denver play-by-play radio announcer Derek Kessinger, described the slash on Hanson while he was live tweeting the game, "Tam with a huge frustration slash with 23 seconds left."
- Daniel Tetrault, "Friday is a new day and we have got to come ready to play, it's even bigger, every game gets bigger from here on out".
- Kale Kerbashian, "Friday is huge for them, they are going to come out hard, we have to be ready from the get go. It's playoff hockey and if you're not ready at this time of the year something is wrong with you. We have go to come out hard and we have to play our game. Stay patient and aggressive."
- AJ Gale, Denver's leading goal scorer in the playoffs, who was injured in game two, was in the press box last night and watched the game from the upper level of the AEC. It is still uncertain if he will play this weekend.
- Last night was only the second time in the 15 Allen playoff games this year that neither team scored a power play goal.
- Jamie Schaafsma had an assist on Daniel Tetrault's first period goal which gives him an assist in all three games in the finals to go along with four goals which leads the team. Jamie also has the team lead in plus/minus in the finals with +6.
- Had a chance to talk briefly to Chris Kaufman who played defense for the 2009-2010 Allen Americans team. Chris and his family are in town visiting the Graham family. Chris scored five goals the season he played for Allen and everytime he scored Allen won the game. He was also a +22 while playing in just 40 games which was second on the team to Bruce Graham's +23.
- The biggest crowds of the season are expected for the games on Friday & Saturday and the team certainly deserves a big turnout. You don't want to miss these games if you live anywhere close to Allen.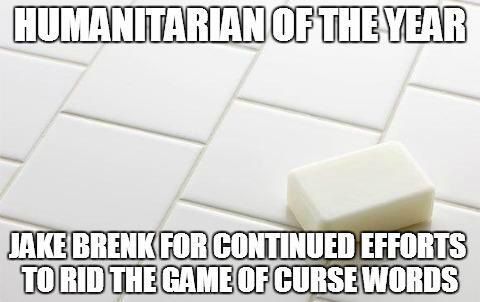 Courtesy of CHL Memes
DID YOU KNOW: Allen has won ten games thus far in this year's playoffs and Greger Hanson has the game winning goal in four of them.