- I wanted to start today with a couple of follow ups from my post from yesterday. The first has to do with getting the Americans broadcast on TuneIn radio so you can listen on a smart phone and other devices. Yesterday afternoon I heard back from the Hot 107.3 radio station Market Manager who had this to say, "Please excuse the delay in responding. Getting back in the swing of things after the holidays and all. I think I can also speak for Tommy Daniels when I say we both share your frustration. This is a TuneIn issue and not associated with Hot 107.3 or the Allen Americans. TuneIn searches for these broadcasts and puts them on their application. Both myself and especially Tommy has sent numerous requests to TuneIn to add the Americans to the radio player. My suggestion is for you to contact TuneIn as well and hopefully after time they will add the broadcast. Tommy and myself will both continue to do so as well."
Sounds like the next step for those of us who would like to be able to listen to games on our smart phones is to contact TuneIn and let our wishes be known. Please go to the tunein.com "help center" which is at the bottom of the home page. At the bottom of the "Help Center" page it says, "Still need help? Contact Us." When you click on "Contact Us" you will be able to send an email. If just a few of us send an inquiry we might get this accomplished.
- The second followup has to do with finding the Allen fan who took a picture with Rapid City captain, Scott Wray, expressing her following of a blog that Scott's wife, Shanna, writes called "Wraysing Boys" (wraysingboys.wordpress.com). Shanna's affectionate term for Scott in her blog is Mr. Sometimes. Mystery solved, as I received a message from Angelia Blair that she was the fan and she had forwarded the picture to Shanna Wray. Also got a nice message from Shanna thanking us for the help.
Allen Americans fan Angelia Blair with Scott Wray aka Mr. Sometimes
- I was listening to a Dallas Stars broadcast recently and they were talking about a special teams statistic that combined power play percentage and penalty kill percentage with the goal for good performance to be over 100. I decided to look at the CHL teams and how they fare in this special teams stat. Here are the current CHL standings with the combined power play & penalty kill percentage.
1. Rapid City: 92.65
2. Missouri: 104.67
3. Allen 103.31
4. Denver 105.45
5. Quad City 95.46
6. Brampton 106.12
7. Tulsa 93.38
8. Wichita 100.80
9. Arizona 98.34
10. St. Charles 97.93
Hard to draw many conclusions from this statistic with the top team in the league having the lowest combined score. Maybe it points out what many have said, that Rapid City is the best team in the league by far when operating at even strength.
- As we approach the half way point of the season (Saturday night will be half way) there are only six players that have played in every game (Asuchak, Berube, Kerbashian, Lavoie, Tyler Ludwig, & Tetrault). There is great value with the way the rosters are in the CHL to have the guys that never miss a game and play thorough the bumps and bruises. Here are the players that never missed a game by season. The "Ironmen" of the Allen Americans.
2009-2010: Bruce Graham & Christain Gaudet
2010-2011: Colton Yellow Horn & David Strathman
2011-2012: Jason Deitsch
2012-2013: Jason Deitsch & Jamie Schaafsma
- Here is what the CHL had to say about the Americans in their "Shots From The Point" press release:
Americans Keep Rolling-
The Allen Americans (19-10-2) are the hottest team in the CHL with wins in five straight games including back-to-back triumphs this past weekend over the league's top team, the Rapid City Rush. The wins for Allen ended the Rush's CHL record 12-game road winning streak. After a 7-0-1 start to the season, the Americans struggled to the tune of a 5-8-1 mark between Nov. 3 and Dec. 13. However, since Mid-December the defending champs have been nearly unbeatable winning seven of their last nine games. Defenseman Tyler Ludwig has picked up his game with six goals over his last four contests and Kale Kerbashian has two goals and three assists over his last four games. In goal, Bryan Pitton has been hot winning six of his last seven starts while not allowing a team to score more than three goals over that stretch. Allen will look for their sixth straight win on Friday night when they host Denver (16-9-6).
- Scott Howes was named CHL player of the week this past week and got a nice write up in his hometown (Brampton Guardian) newspaper as well. Here is part of the newspaper article which was titled "Scott Shows Howes to Do It" and interestingly used an Allen Americans head shot of Scott.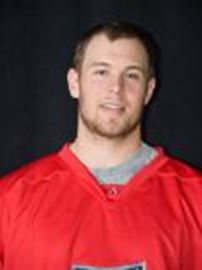 Brampton Guardian
BRAMPTON- When coach Mark DeSantis of the Brampton Beast signed Scott Howes he was hoping the Central Hockey League veteran would give his team some scoring punch.
And has he ever. On Saturday Howes led the Beast to its second consecutive road win at the Missouri Mavericks. He had a team record of four goals and a total of five points in the Beast's 7-4 victory before an announced attendance of 4,944. The seven goals are also the most the Beast have scored in its inaugural season.
Howes, who had 35 points, including 21 goals in just 22 games with the Allen Americans last season, has already got eight goals and six assists in seven games since joining the Beast. The back-to-back road victories against the second-place Mavericks allowed the Beast to move up to a sixth-place tie with the Tulsa Oilers, each team has 34 points but Brampton has three games in hand.
- Don't normally make predictions but the CHL rookie scoring race is now Alex Lavoie and everyone else.
- Will stop by practice today and see what is happening.
DID YOU KNOW: The Allen Americans won the Governor's Cup (most regular season points) last year with 87 points which was the first time the Governor's Cup had been won by a team scoring fewer than 90 points.